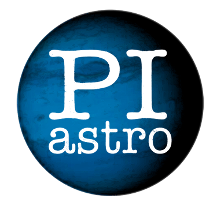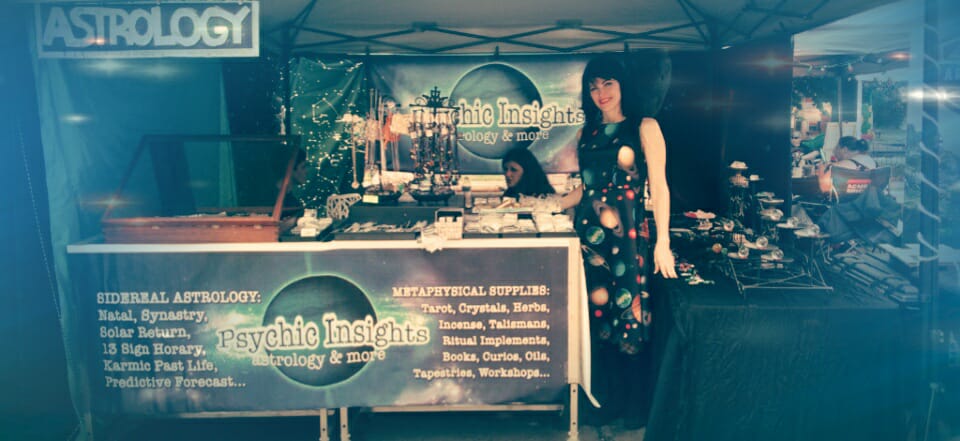 catch me at an event
To add an element of FUN to what could be a very isolating career (lots of quiet study time alone, work-from-home phone/internet consultations) I like to get out of the house for some social interaction every so often. These are the best times to see me in person if you're on a budget! I often have show specials that are affordable, and the one-on-one interaction is truly priceless.

Normally, my private one-on-one consultations begin at $100 an hour. But if you see me at an event, the show specials can save you money! My time is valuable as it comes with decades of disciplined study and practice.

Sure, you can go see self-taught local reader for much less... but, well- you get what you pay for. INVEST in a reader that has invested in education and has developed skills backed by results. Invest in a reader that has been trained with effective coaching methods, studied in accredited universities and mystery schools, and really cares about your happiness and success.

See my clientele feedack and educational credentials. They speak for themselves. And then, come say hello at my next event!
click here to see most up-to-date events list with active links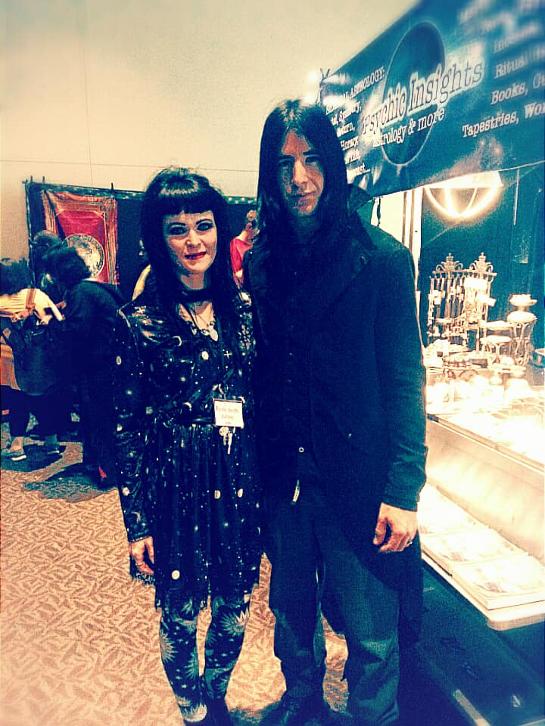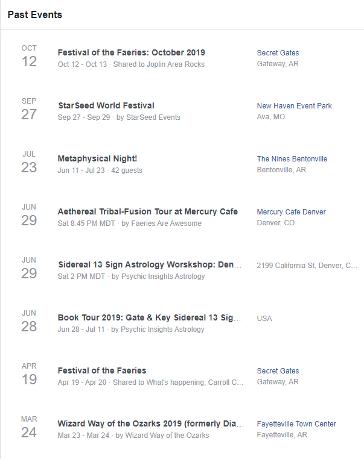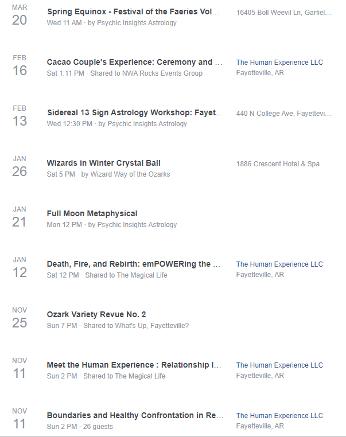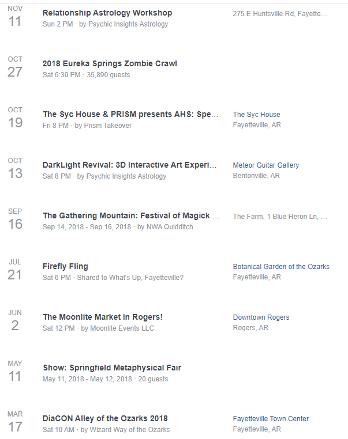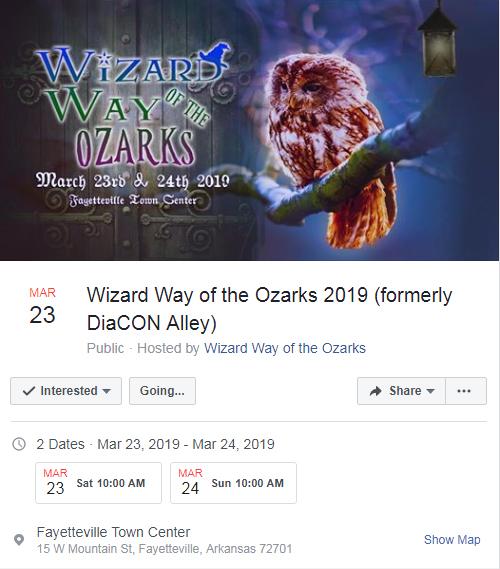 Mar 23, 2019 - Mar 24, 2019 --- Come one, come all, mugborn and magifolk alike! Fayetteville's first and only convention of magic and wizards is here (a new take on the former DiaCON Alley of the Ozarks), celebrating our favorite magical literary characters and the worlds surrounding them through a fun festival of spellbinding proportions! After covering operating costs, the proceeds this year will benefit KidsClub - a summer day camp for kids with developmental disabilities which is a program of Arkansas Support Network. The kids attend the camp free of charge, so helping funding this program makes a big difference. The wizards and witches of Wizard Way of the Ozarks are happy to have chosen them this year!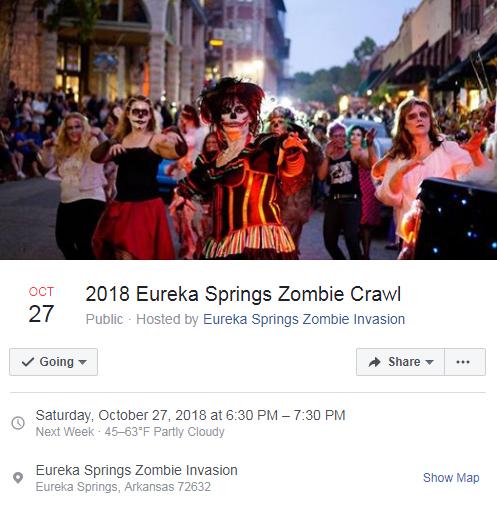 Saturday, October 27, 2018 at 6:30 PM – 7:30 PM-- SAVE THE DATE, invite your friends, and book your hotel NOW! On the evening of Saturday, October 27, 2018 the quirky mountain town of Eureka Springs will experience its 7th Annual Eureka Springs Zombie Crawl. A parade of hundreds of hungry zombies will make their annual descent down Spring Street, followed by apocalyptic vehicles, spooky street performers, and Halloween floats. This is Eureka's largest parade spectacle and it is not to be missed! All are invited (locals and visitors) to dress up and join the horde.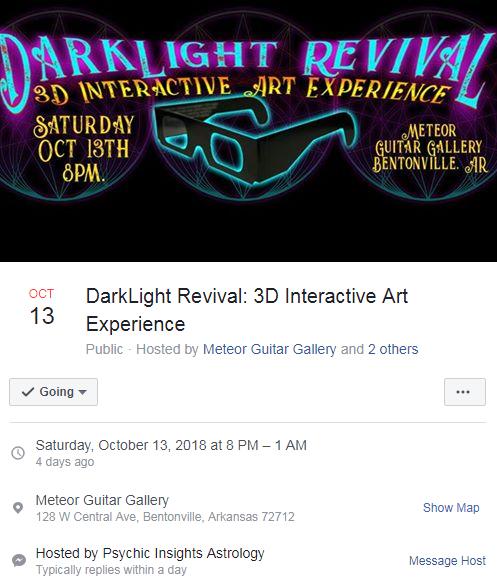 Saturday, October 13, 2018 at 8 PM – 1 AM... In total darkness, a new kind of vision comes to view. Dark Light is what your eyes see in the absence of light; often referred to as "visual noise" because it is accompanied by the perception of an ever-changing field of tiny black and white dots. Background adaptation allows the eyes to see what the normal light conceals... The intensity-sensitivity curves change and the visual noise in the retina produces random events indistinguishable from those triggered by real photons. Ever 'see things' in the dark? Vibrant, kaleidoscope colors of intricate design, continually in motion... the veil parts, and you see into the Matrix. Join us for an evening of concealing light to reveal the beauty of darkness. All guests must wear completely BLACK. Bizarre and black is even better. Black on black. There is an option to be painted by local artists with fabric paints or body paints.
Please support artists by filling their tip jars during live painting performances, or by purchasing one of their works. A glowing photo booth will be available for glowing photo ops. Arrive in a plain black shirt, leave with wearable art that ties you to a mind-blowing visual art experience! A LIVE, interactive art experience under ultraviolet light. www.darklightrevival.com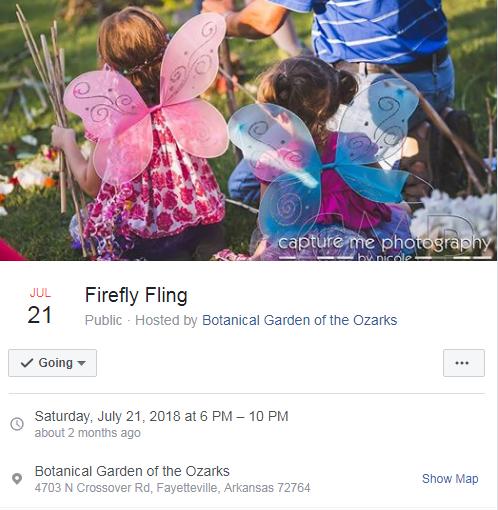 Saturday, July 21, 2018 at 6 PM – 10 PM Dust off your fairy wings - one of Northwest Arkansas' most anticipated midsummer events is back on Saturday, July 21, 2018! Thousands of families from Northwest Arkansas and beyond gather at the Botanical Garden of the Ozarks each year for the Firefly Fling Family Festival. Come dressed as your favorite fairy or woodland creature! Before dark, community groups will offer engaging and fun activities like fairy house building, an obstacle course, giant bubbles, nature stations, crafts, and more! Garden fairies and other fun characters will be granting wishes to children throughout the garden. After dark, families may gather on the lawn for glow-in-the-dark performances, followed by fire dancing a special Community Wishes Finale. Guests may bring blankets and picnics, but food trucks will be selling food as well. The Firefly Shoppe will have fairy wings, wands, glow sticks, and other festival items for sale!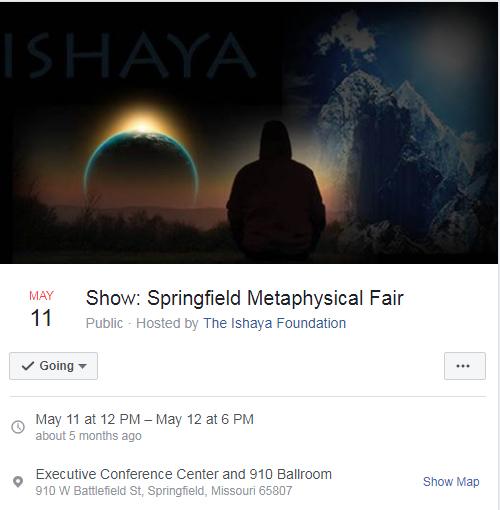 Learn more about the Art of Ascension at the Springfield Metaphysical Fair on May 11th & 12th. Teachers of Ascension will be available May 11th (12pm-8pm) and May 12th (9am-6pm)2018 to answer questions and share more about the Art of Ascension as taught by the Ishayas. Executive Conference Center and 9 10 Ballroom: 910 W Battlefield St, Springfield, Missouri 65807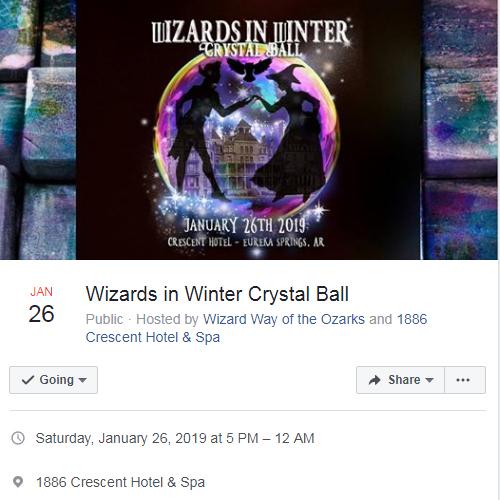 Saturday, January 26, 2019 at 5 PM – 12 AM... Come one, come all! The historic Crescent College of Magical Matriculation invites you to gather your finest dress robes, your best hat, and of course your wand to join us at our Winter Formal Ball in a mysterious town filled with curious shops and other curiouser places. Professors and students from around the world are welcome to attend for a ray of merriment in the cold weather. You will enjoy an amazing wizards feast, themed cocktails (cash bar), an assortment of musical entertainment including wizard rock, a silent auction, ice skating, ghost stories, and more! Come inside to ward off the frost by the fireplace, hang up your cloak, and get ready to have an enchanting evening.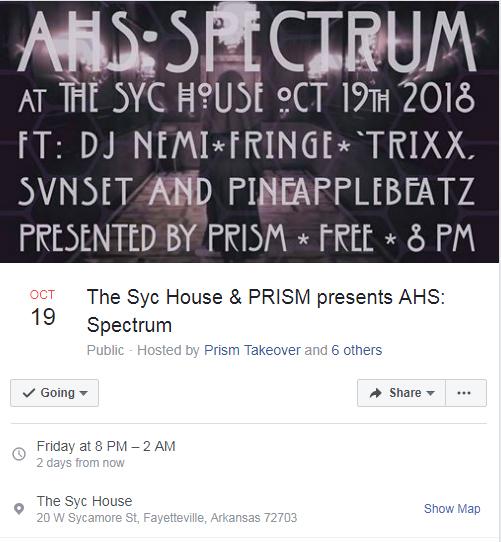 Friday October 19 2018, at 8 PM – 2 AM-- Come party with us at AHS: Spectrum, an American Horror Story-themed Halloween shindig at The Syc House. Live DJ sets by Nemi, B2B sets with Fringe Bass and Trixx Music, and to top it off another B2B set with special guests from Little Rock PINEAPPLEBEATZ & SVNSET. Doors open at 8 pm, music starts around 9! Dress for success for the AHS costume contest as a Coven witch, House ghost or Hotel vampire! **PRIZE for costume contest winner!** Friendly reminders: 💀FREE SHOW! 🧟BYOB 🎃Parking at Woodland Jr. High gym lot 🕷Carpool/Uber/Walk/Bike/Etc if possible 🔮Driveway parking reserved for artists and residents ⚰20 W. Sycamore Fayetteville, AR 72703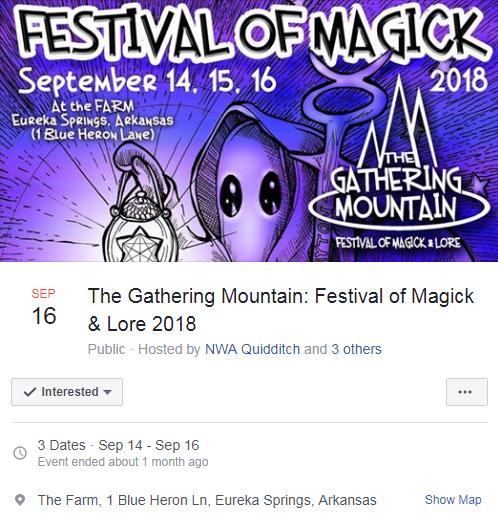 Click here for the official website. Sep 14 - Sep 16 2018. Celebrate all things magick with us at the Gathering Mountain; a Festival of Magick & Lore! Calling all witches & wizards (whatever your magickal path may be), practitioners of many modalities, curious laymen, psychic entertainers, fantasy magic fandom enthusiasts of all ages, cosplayers, and elemental creatures with jolly dispositions! Be mesmerized, enchanted, and entertained with the entire family. Enjoy the novelty vendors, savory eats & tempting sweets, music, magical performers, metaphysical attractions, demonstrations, the majesty of nature with hiking & camping, games, contests, prizes, and more! Invite your tribe for an escape into the world of magic!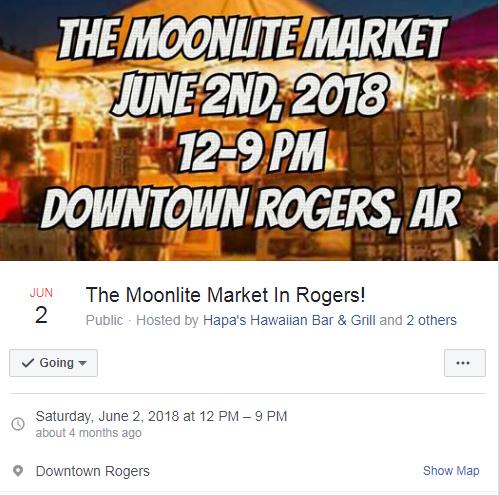 Saturday, June 2, 2018 at 12 PM – 9 PM
Come shop, eat, and listen to the best NWA has to offer! We're setting up 70 vendors, 6 Food Trucks and 4 Live Music Acts on 3rd street between Walnut and Poplar. Hapa's Hawaiian Bar and Grill will be open for a full bar and delicious Hawaiian cuisine. $5 Admission at the Gates at 3rd and Elm St. Kids 12 and under Free!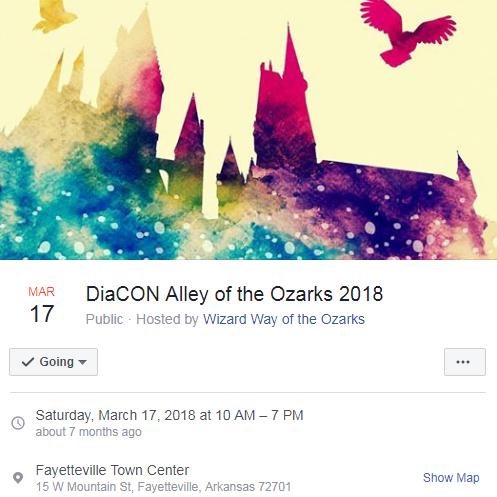 Saturday, March 17, 2018 - TICKETS ARE SOLD OUT FOR THIS EVENT :( Due to the capacity of the venue, we were limited in the amount we could allow to attend. We apologize if you were unable to purchase tickets -- you can enter your information on our website to be put on a waiting list for cancelled or refunded tickets OR you can also keep an eye on our social media pages for free ticket give aways leading up to the event. In an effort to KEEP FAYETTEVILLE FUNKY and satisfy our little geeky hearts -- we invite you to join us for our FIRST year holding a wizarding world inspired fan convention! Come pass through the brick wall and enjoy the wizarding / fantasy inspired goods and crafts our vendors have to offer, taste the delectable themed food, get sorted into your house (if you aren't already), and enjoy the panels, activities, and games we will have going all day - including an all ages costume contest and a mischievous scavenger hunt (I wonder which house will claim victory to the house cup at the end of the night?).
10 AM – 7 PM 2018